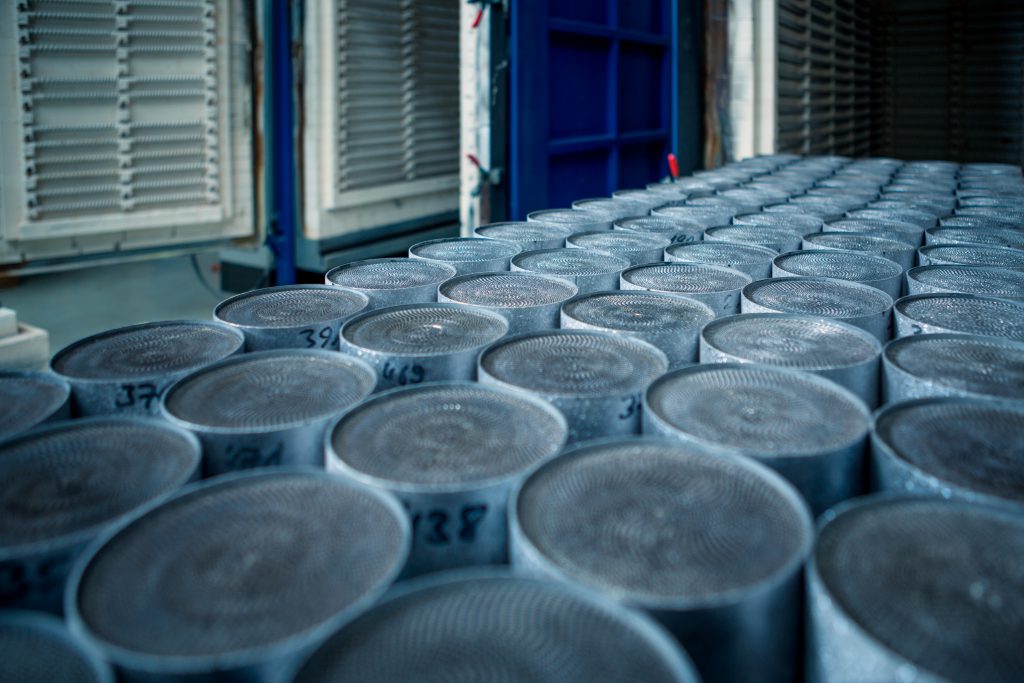 Oxidation Catalyst (OC)
Oxidation catalysts convert hazardous compounds like CO, VOC (volatile organic compounds), formaldehyde and other hydrocarbons to the nontoxic products CO2 and H2O. Precious metals like platinum and palladium are used as active components along with special promoters and binders which are added to maximize catalytic activity and durability. Oxides with very high surface area are used to support the precious metals and together, these materials are coated onto ceramic or metallic substrates.
In contrast to the total oxidation other applications require a selective oxidation, e.g. of nitrogen containing organic compounds where nitrogen oxides are not supposed to be formed. This is realised by using precious metal free oxidation catalysts. Apart from a high activity and selectivity, INTERKAT catalysts provide a long lifetime and stability regarding thermal aging, poisoning and deactivation by ash which is formed due to the combustion of oil and lubricants. Based on these features INTERKAT technologies are capable to cover numerous applications like the exhaust treatment of CHP (combined heat and power) plants, roasteries, greenhouses, automotive and therefore account to a cleaner environment.
An overview of the product characteristics of selected INTERKAT oxidation catalysts is available here:
Product characteristic
Customers benefit
Applications
Total Oxidation of CO and hydrocarbons at optimized PGM loading
cost efficient removal of CO, formaldehyde and hydrocarbons
• Agricultural
• Construction
• Marine
• Rail
• Diesel Gensets
• Buses
• Light & Heavy Duty Vehicles
• Stationary Gas Engines
• VOC abatement
• Industrial & Home Ovens
• Stationary Sources
Selective Oxidation of HC
oxidation of nitrogen containing organic compounds
Roasters
VOC abatement
Hydrocarbon storage capacity
Hydrocarbons trap during the engines cold-start phase
Light & Heavy Duty Vehicles
High NO -> NO2 conversion at low temperature
High NO2 generation for passive soot regeneration
Agricultural
Construction
Marine
Rail
Diesel Gensets
Buses
Light & Heavy Duty Vehicles
Optimized NO -> NO2 conversion
Meeting tailpipe NO2 limits
Agricultural
Construction
Marine
Rail
Diesel Gensets
Buses
Light & Heavy Duty Vehicles
High thermal stability
long term durability under high temperature conditions generated by active soot regeneration events
Agricultural
Construction
Marine
Rail
Diesel Gensets
Buses
Light & Heavy Duty Vehicles
High sulphur tolerance
Lower requirements for fuel quality.
Marine
Stationary Gas Engines
High methane conversion at 500 °C
Increasing thermal efficiency of gas powered engines.
Meeting total HC limits.
Stationary Gas Engines
Marine
Highest conversion of ethane and propane
Increasing thermal efficiency of gas powered engines.
Meeting total HC limits.
Stationary Gas Engines
Marine
low SO2 -> SO3 conversion
Corrosion prevention of the exhaust systems.
Stationary Gas Engines